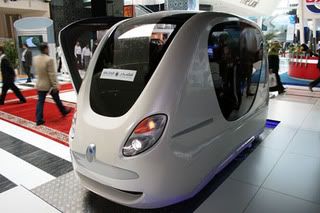 If you don't know to drive, taking a cab is the next best option in UAE. Anyone who's driven in cabs here (or anywhere else for that matter) knows that cab drivers aren't the best drivers around. Sadly, most cab drivers can't even make up for their lack of driving skills with their knowledge of the roads. So we're stuck with hanging on to the seats for our lives, praying to whichever god we believe in to deliver us safely to our destination.
But there may be hope! UAE will be rolling out electric driverless pod-taxis in Masdar City – Abu Dhabi's carbon free city. The first taxis will be used to transport students to Masdar Institute of Science and Technology. The taxis will be driverless, their maximum speed would be 40 kph and they'd be following a specific path like a train.
All that's fine and dandy but how do you tell a cab where you want to go? Swiping a card doesn't seem the answer. And with the history of bungling anything that needs to be done by the public (Remember the ID card appointment fiasco?) the UAE is notorious for coming up with technology that is not user friendly.
Even though the idea is very new age, when I think of a driverless taxis – I think I would take my chances with the crazy cab driver.
Sources: The National, Switched.